Dental implants restore your smile and your ability to chew with permanently fixed tooth replacements. Some of our patients interested in this option will ask us, "How do dental implants work?" Essentially, they work by mimicking the design and function of your natural teeth. They give you a comfortable, natural-looking way to replace missing teeth in your mouth or to more firmly secure denture arches.
Why You Might Need Dental Implants
There are a couple of reasons to talk to your dentist about getting dental implants – needing a tooth replacement or dentures.
Needing a Replacement for a Missing Tooth
The most common reason for a dental implant consultation is when a patient needs a tooth pulled or has a missing tooth in their mouth. Missing teeth pose several problems for your dental health beyond marring your grin. When you don't have a tooth, the other surrounding teeth will shift in your mouth to respace themselves and try to fill in the opening. Even if you had straight teeth before losing the tooth, the new movement of the remaining teeth may cause your smile to become misaligned and crooked.
Another major concern of having a missing tooth is the invisible consequences that occur below the gumline. Your jaw needs to have a tooth to hold to keep itself built up. However, when you lose a tooth, the bone that once held the tooth no longer needs to maintain its density. Over time, the bone will thin. This thinning becomes especially problematic for people who wear traditional dentures.
Implants replace the missing teeth in your mouth with titanium roots to prevent movement of the other teeth and preserve the bone structure beneath.
Wanting Better Support for Dentures
Traditional dentures rely on their customized fit to sit snugly in your mouth. However, over time, the bone in your jaws will wear down because it doesn't have anything to support. This bone loss causes a change in the size and shape of your mouth, which means that your dentures will eventually not fit as they did when new.
With implant-supported dentures, you have four implants that prevent bone loss in your jaw, which prevents the changes in your face shape that can happen with traditional dentures. Plus, the implants securely hold the dentures without the need for paste.
How Do Dental Implants Work?
When getting dental implants, the process does require several surgeries and recovery periods to ensure success. However, implants offer a life-long solution to missing teeth, and the small investment in time provides you with years of a healthy-looking smile.
The first step of getting dental implants is having the implant screw placed within the jaw bone. This stage of the process may happen at the same time as your extraction or later, depending on your dental health.
Parts of the Implant
The titanium screw used is an inert metal that doesn't cause a reaction in your mouth. It will replicate the tooth root to promote bone density maintenance. If you get dentures, you'll have multiple screws placed to support the dentures. With all-on-4 dentures, you only need four screws placed. These screws support the dentures and prevent bone loss.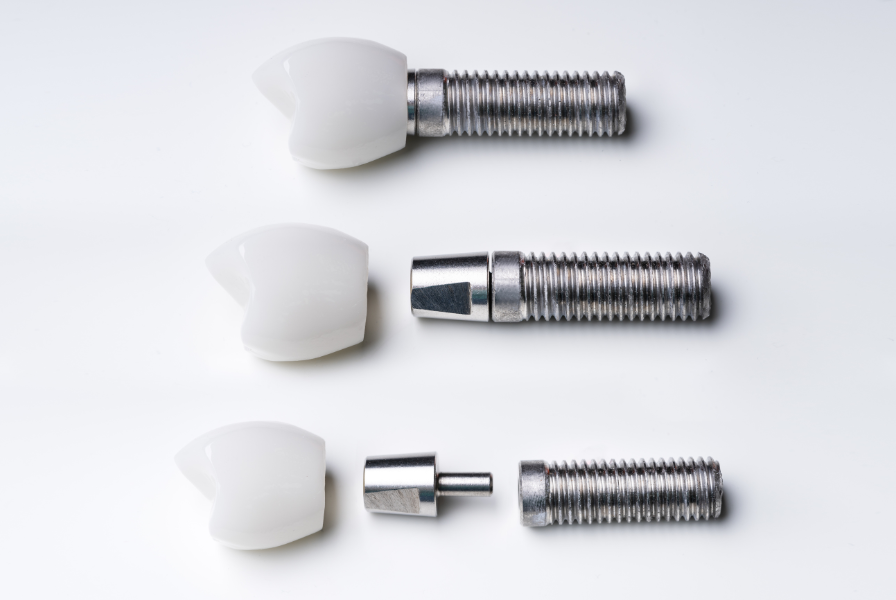 Above the screws, the implants have abutments, which support the crown for a single tooth or the dentures.
Finally, if you have one tooth to replace, you'll get a replacement crown on top of the abutment. For dentures, the complete set of dentures will fit on the abutments for a secure, natural-looking set of teeth.
Does Getting Dental Implants Hurt?
Getting dental implants does not hurt because you will have a local medication to numb your mouth. The healing process may cause some discomfort because your mouth needs to recover from dental surgery after getting the titanium screws placed. Some of the most common things you'll feel during recovery include swelling in the mouth and gums, minor bleeding, bruising, and pain at the implant site.
Talk to your dentist if any of the side effects of the procedure become severe, such as pain that wakes you up or bleeding that won't stop. It can take a few days for your pain to subside.
How Long Does It Take to Get Dental Implants
Getting dental implants requires several steps, but the number of steps and surgical procedures you need depends on your situation. Some people may need bone grafts to augment their jawbone to accommodate the titanium screws.
However, thanks to CEREC 3D, getting the crown on top of your implant reduces from weeks to an hour or two. This system allows the dentist to create a crown in the office, so you won't have to wait for a third-party lab to produce the top of your implant.
Caring for Dental Implants
Once healed, treat your dental implants the same as your other teeth. You still need to floss around them to protect your neighboring teeth from cavities. Brushing also keeps your breath fresh, prevents decay in other teeth, and reduces the chances of stains on the crown. Continue to see your dentist twice a year to maintain the health of your other teeth.
Pros and Cons of Dental Implants
All dental procedures have benefits and downsides to them. You should discuss these with your dentist before deciding to have dental implants placed.
Advantages of Dental Implants
With dental implants, you don't have to worry whether your missing tooth shows when you smile. Additionally, you can rest assured that your dentures will fit comfortably and not fall out. You also avoid the common side effects of having missing teeth — bone loss and an unevenly-spaced smile.
Disadvantages of Getting Dental Implants
The biggest disadvantage is the cost, but with financing options and payment plans, you can get assistance in covering the portion of the bill that your insurance won't.
Other cons of dental implants include the inherent risks in dental surgery of implant failure, damage to the surrounding teeth, infection, or nerve damage. These complications only happen in very rare circumstances. Talk to your dentist if you feel any concerns about these or other risks.
Visit a Top Provider of Dental Implants in Charlotte at Cedar Walk Family and Cosmetic Dentistry
Whether you need extractions or already have missing teeth and want to restore a full, healthy smile, take the first step and set up a consultation. The dentist will determine if you are a good candidate to get dental implants and help you understand your personalized process for getting them. Why wait any longer to get a beautiful smile? Contact us today to schedule a visit with us at Cedar Walk Family and Cosmetic Dentistry to see how dental implants can transform your smile.