Heather was born and raised in southern California and moved to the the south as a teenager. She has lived in 10 different states, but is happy to call Charlotte home. She graduated dental assisting school in 2004 and has experience as a dental assistant and patient coordinator. Her favorite part of her job is watching patient's lives changed through their smiles. In her spare time, she enjoys spending time with her daughter who attends UNCC and her son who is a preteen.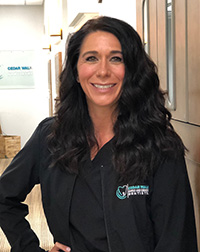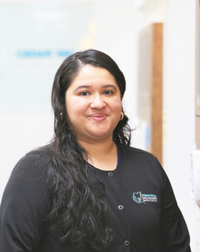 Charlena was raised in Mexico, and now calls North Carolina home. She has been in the dental field for over 10 years and absolutely loves working with dental insurance, claims, and anything that helps patients have an amazing experience. Her daughter is her entire world. They love baking together and exploring new places.
Dallas came to Cedar Walk Dentistry in 2019 after having been a patient for over 10 years, where she now works as one of our insurance coordinator's. She had a beautiful Christmas wedding in December of 2020. Dallas is an animal lover and has 3 cats and a giant 6 year old puppy named Raven. She is an avid gamer and enjoys spending time with her family.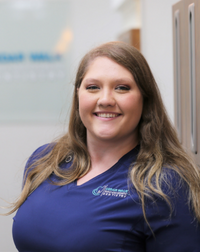 Katy has been a dental assistant since 2015, and is known for her friendly demeanor. She thrives on educating her patients and providing a calming atmosphere during dental treatments. Katy is from Charleston, SC but moved to Charlotte in 2017 where she resides with her son, Oliver. She enjoys going to local sporting events, cooking, and spending time at her family's beach house.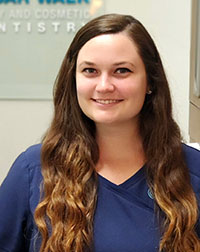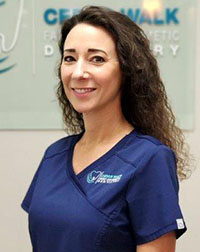 Crystal is a Charlotte native who graduated from the Dental Assisting program at Central Piedmont Community College in 1998, where she specializes in dental implants and cosmetic dentistry. She has been a professional Carolina Shag dancer since 1998 and continues to compete in her free time. She also loves painting, DIY, and anything artsy.
Christy graduated from Rowan-Cabarrus Community College as a dental assistant in 1995 and has been a part of our Cedar Walk family since 2009. She and her husband have been married for 28 years and have 3 children together. In Christy's spare time she runs an animal rescue and sanctuary called The Salt Roo.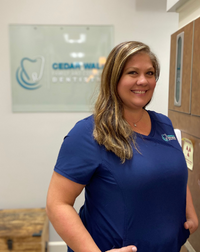 Born and raised in Charlotte, Amanda is married with step daughters and one son. She attended the College of Charleston in South Carolina. When Amanda moved home she attended York Technical College in Rock Hill, and completed her dental hygiene program. On her free time she enjoys spending time with her family, watching movies, and reading. She is a great addition to our team and we love having her here!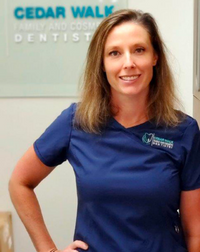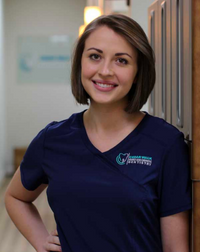 Raised in North Carolina, Rebekah is married and lives in Monroe. Ever since she was a child, she knew she wanted to become a Dental Hygienist! She completed her Dental Hygiene program at Central Piedmont Community College. For fun, Rebekah enjoys horseback riding, listening to music, and spending time with her family and church. At work, Rebekah is passionate about educating her patients on oral health and disease prevention.
Born and raised in Charlotte, Peggy is married and lives on Lake Wylie. After graduation, she completed her Dental Assisting and Dental Hygiene programs at Indian River State College in Florida. Peggy has a love for oral health and wants her patients to leave with an incredible smile and a memorable visit. She loves Panther football, making jewelry, and lake time.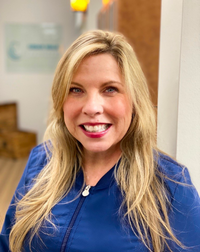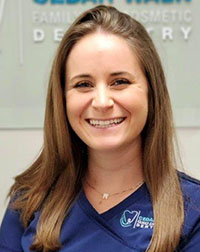 Alex grew up around the Charlotte, NC area and attended York Technical College where she completed the Dental Hygiene program in 2017. Alex's favorite thing about her career is helping patients gain confidence in their smiles, and to enjoy their experience here at the dentist. She now lives in Indian Land, SC with her husband and their big snuggly dog, Finn. In her spare time, she enjoys yoga, hiking, traveling, and reading.
Laine was born and raised in Ohio but has been living in the Charlotte area since 2013. She received her Dental Hygiene degree from York Technical College in 2017. Laine is very passionate about helping others and takes pride in the amount of care she provides to each patient's oral health needs and goals. In her free time, she enjoys traveling, rooting for Cleveland sports, and spending time with her husband, daughter, and their two dogs.