Welcome to Cedar Walk Dentistry!
Our caring and dedicated staff are here to help you and your family throughout any dental procedure! We built our practice on quality service and are committed to educating and explaining the different treatment options available. We always take the time to address your questions and concerns.
Learn what sets our team of dental professionals apart from the rest.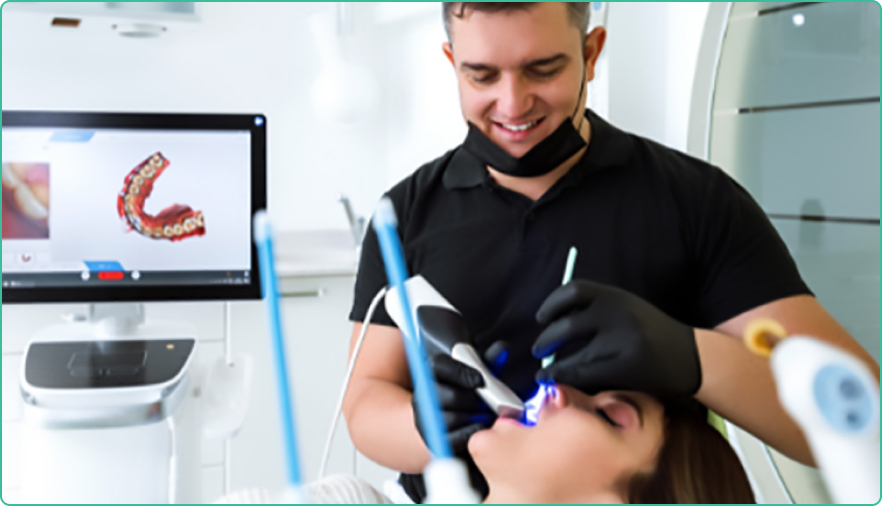 Dr. Rao, Dr. Le, and Dr. Kirakozova have invested in the training and experience to give you specialized, state-of-the-art dental technologies and comforts including the latest computerized digital x-rays and photography. These include intraoral cameras and chairside monitors for convenient viewing and accurate diagnoses. Intraoral cameras allow us to project an image of an individual tooth or area of concern onto a chairside viewing monitor for use as a visual aid. Digital imaging allows us to show you what your new smile could look like before you commit to treatment.
Leaders in Dental Innovation
Cedar Walk Family and Cosmetic Dentistry serves the South Charlotte, NC area, offering preventative, restorative, and cosmetic dentistry services, including exams, fillings, Invisalign, dental implants, and more.
Our team of experienced and committed doctors combines state-of-the-art technology with a focus on patient comfort, for fewer appointments needed.
Cedar Walk Family and Cosmetic Dentistry Blog
April 26, 2023
Many lifestyle factors can impact your teeth's brightness. While we offer in-office teeth whitening at Cedar Walk Family and Cosmetic Dentistry, you […]
January 25, 2023
Your kids will eventually lose their first set of teeth. However, you still need to help them take care of their teeth […]
August 5, 2022
When you're exploring ways to improve your smile, veneers might be a great option to consider. What are veneers? Dental veneers are […]
Cedar Walk Dentistry has always been wonderful from start to finish - they really focus on customer service. I have used them for my dental work for several years and I always leave happy (which is saying something - because it is the dentist). They are very upfront on procedures and costs - even give you an estimate before you schedule to have any work done! Thank you - you guys are all rock stars!

- Brianne

Outstanding patient care, very clean office, extremely knowledgeable staff. I have visited many dental and ortho practices and none come close to this one. Dr. Rao is very honest and will guide you right. Patient for life!

- Trevor - Indian Land, SC

The staff at Cedar Walk are great!! Today I had my 6 month cleaning and checkup. My hygienist listened to all my concerns, and performed the cleaning in a gentle manner, making sure I wasn't in pain. If you are looking for a friendly and caring office where they listen to your needs, I would highly recommend giving them a call!!

- Linda - Charlotte, NC

Amazing practice. Needed an appointment ASAP and they had me in immediately. None of the annoying wait times like most practices and the physicians take their time to discuss every aspect of treatment and care with you. Would highly recommend to friends and family!

- Alex - Waxhaw, NC

I switched to Cedar Walk Dentistry over 2 years ago and so glad I did. For routine cleanings I'm in and out in under an hour, you never feel pressured to receive any additional treatments you don't need, and all the dentists, hygienists, assistants, and staff are amazing!

- Andrea

My family and I have been patients for over 10 years and cannot say enough about how amazing the entire practice is. I refer everyone I know to this practice!

- Cindy - Charlotte, NC

As an RN, I take my dental health seriously knowing prevents more serious conditions from developing. The staff at Cedar Walk is professional, courteous, and provide excellent dental care. Even though there are more precautions due to COVID, I have full confidence in the staff with respect to my health and safety.

- Karen

What a thorough and pleasant visit! My dental hygienist did a wonderful job and exceeded my expectations. Her professionalism and thoughtfulness will have me coming back and she addressed all questions I had. Dr. Le also did such a careful and quick filling, I appreciate it so much!

- Nyasia

The dentists, assistants and hygienists are all fantastic at Cedar Walk. I have been seeing Dr. Rao for years and it is clear he is an expert in his profession. After referring many friends they have all shared similar experiences at Cedar Walk. Several have commented that they are very reasonable and do a great job of giving you options when you need work outside of your typical cleaning. The office is built like a spa instead of the typical dental visit you might dread. I like the addition of the personal TVs so I can watch ESPN.

- Andrew - Charlotte, NC