Tooth Extractions Dental Implants Charlotte Nc
In Office Tooth Extractions and Dental Implants - Charlotte NC
Our doctors want you to keep the most of your natural smile, but on the occasion that isn't possible, they can perform routine oral surgery with optimal patient comfort in our office.
In extreme cases, a tooth has to be removed if it is broken, decaying or otherwise not fixable with a filling, root canal therapy, crown, veneer or other treatment. If the tooth cannot be repaired the safest, and healthiest option is to remove it. But you may be thinking, "How do I know when I need a tooth pulled?"
Common needs for tooth extractions:
Extra teeth or baby teeth that block other teeth from growing in
Getting braces and need room for moving teeth
Infection or trauma
Dental implants are changing the way people live. They are designed to provide a foundation for replacement teeth that look, feel, and function like natural teeth. The person who has lost teeth regains the ability to eat virtually anything, knowing that teeth appear natural and that facial contours will be preserved. Patients with dental implants can smile with confidence.
WHAT ARE DENTAL IMPLANTS?
The implants themselves are tiny titanium posts that are surgically placed into the jawbone where teeth are missing. These metal anchors act as tooth root substitutes. The bone bonds with the titanium, creating a strong foundation for artificial teeth. Small posts that protrude through the gums are then attached to the implant. These posts provide stable anchors for artificial replacement teeth. Implants also help preserve facial structure, preventing bone deterioration that occurs when teeth are missing.
We place implants aided by surgical guides, a technology that allows our team to have the most accurate implant placement.
CEREC 3D is a new technology that is used to replace failing restorations, broken teeth and old mercury fillings with beautiful full porcelain fillings or crowns in just one visit. CEREC uses CAD/CAM technology, incorporating a camera, computer and milling machine all in one instrument. Using a special camera, Dr. Rao takes a precise digital image of the prepared tooth, avoiding the traditional physical impression. This optical impression is transferred and displayed on a color computer monitor where Dr. Rao and his CEREC specialist design the restoration by 3D CAD technology. Then CAM takes over and automatically creates the life-like porcelain restoration right in our office while our patients enjoy a few minutes for business calls, emails or relaxation. Finally, Dr. Rao bonds the restoration to the surface of the prepared tooth producing a "new" tooth that rejuvenates the smile instantly.
For more info on the CEREC technology visit: CEREC Online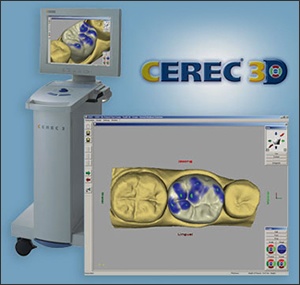 With the advances in implant dentistry now available from Cedar Walk Dentistry, you can soon be eating what you want, when you want and where you want.
Your facial muscle tone will be restored. You'll put 20 years of life back in your smile. You'll regain the self-confidence and quality of life you lost when you lost your teeth. And you'll be able to get it all in as little as one day.
Cedar Walk Dentistry is proud to offer the innovative and technologically advanced All-on-4 (AO4) dental implant technique. If you wear dentures or have a mouthful of missing or failing teeth, the All-on-4 procedure is the optimal solution. It is proven and cost effective. And it will give you a lifetime of happy, healthy smiles.