Restorative & Cosmetic Dentistry - Charlotte NC
Cosmetic Dentistry and Restorative Dentistry have many commonalities. Cedar Walk's approach to dentistry to to see the whole picture. We want your mouth to be healthy, strong and beautiful and never sacrifice any of those characteristics.
Our goal is to fix your smile's overall appearance and oral hygiene. We are dedicated to learning the latest technology and procedures in these fields to ensure our patients get the best care and our treatment plans are in their best interest.
Our Cosmetic and Restorative dental offerings include:
Tooth Colored Fillings
Single Crowns and Bridges
Full and Partial Dentures
Porcelain Veneers
Invisalign Clear Aligners
Teeth Whitening
Icon Treatment for Caries and Fluorosis (white spots)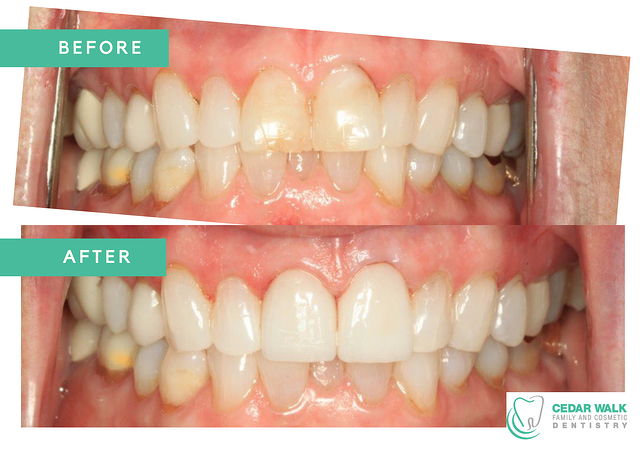 No more unsightly fillings! Minor cavities can be restored with white resin (tooth colored) filling material.
This type of treatment is a good way of correcting a small problem before it becomes a bigger and more expensive problem. When compromised by decay or damage, our doctors may suggest a tooth may need to be restored with a crown, inlay, or onlay.
These restorations, made in a lab from fine dental porcelain, will blend seamlessly with your teeth, return the strength that you need for comfortable oral function, and maintain your all-white smile.
Single Crowns and Bridges
To replace missing teeth in a row, or a single missing tooth, natural-looking crown and bridgework made in our office offers a strong, beautiful option.
A bridge is a fixed prosthetic attached to crowned teeth, so it will not slip out of place.
Full and Partial Dentures
If you are missing many teeth, our doctors may recommend dentures or partials.
These prosthetics can be fixed or removable, and with modern dental materials, they look totally natural.
Porcelain veneers are thin shells of handcrafted dental porcelain that fit over front teeth.
Each veneer is designed to complement your overall smile, as well as your overall appearance. The doctors will consider your existing dentition and bite, as well as your skin tone, features, and face shape when designing the perfect veneers for you.
Glo Science Professional Whitening Treatments
GLO here in the office with a fast professional treatment that gets you your whitest, brightest smile in under an hour, without pain!
Combines the power of GLO warming heat and light with high concentration, professional strength whitening gel that can only be applied by a dental professional.
Take-Home Teeth Whitening Trays
Some patients prefer the convenience and gradual change that take-home teeth whitening kits offer.
You can achieve the same dramatic brightening results as in-office treatment yields – up to eight shades or more – in about two weeks at home.
We also offer the following dental care services:
Oral cancer screening
Dental sealants
Nightguards
Mouthguards
Laser Dentistry