Your oral hygiene habits have a direct impact on how healthy your teeth and gums are. While brushing helps keep your teeth clean, flossing helps keep your gums in good condition and reduces the risk of tooth decay. You should floss regularly as part of your dental care routine at home. Knowing more about flossing, including when to floss and what to use, can help ensure that you have healthy gums and teeth.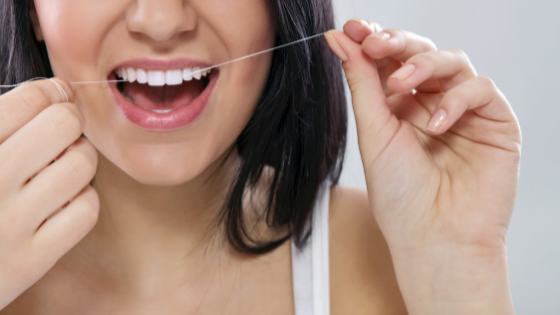 Importance of Flossing
Flossing helps remove bits of food that might be stuck between your teeth. Dislodging these food particles allows you to brush or rinse them away, which helps reduce your risk of tooth decay and gum disease. When food accumulates between your teeth, this attracts bacteria that cause plaque to develop on your teeth. Your gums can become irritated, resulting in gingivitis or inflammation. If this inflammation isn't treated, gum disease can develop. Gum disease can lead to tooth and bone loss over time while also increasing your risk of serious infections.
Choosing Floss
String dental floss is the traditional way to floss teeth, but other options are available. You can also choose floss picks or water flossers instead. The kind of floss you choose depends on factors such as your comfort level and whether or not you have any trouble reaching all of your teeth. String dental floss provides an efficient and simple way to floss, and you can easily buy new floss when yours runs out. This type of floss might make it hard to clean between some of your teeth, such as your back teeth.
When choosing string dental floss, you can decide between coated and uncoated floss. Uncoated or unwaxed floss is thin and can be used to clean teeth that don't have much space between them. You can fit unwaxed floss between teeth in tight spaces, but this type of floss can shred or break. Coated or waxed floss doesn't break as easily as unwaxed floss. You might have an easier time flossing with this type of floss, but keep in mind that waxed floss might not fit between teeth if they're close together.
Flossing picks and water flossers can provide a more convenient way to floss if you have trouble with string floss. You might also choose one of these options if you wear braces, which can make it hard to clean between your teeth with string floss. Flossing picks can help you reach between your teeth without having to move string around. Water flossers use a stream of water to clean between teeth, but they are typically not as thorough as string floss or flossing picks.
Flossing Best Practices
If you're wondering when should I floss, it ultimately doesn't make much of a difference whether you do so before or after brushing your teeth. You might floss before brushing to push food particles from between your teeth, which helps make these areas easier to clean with your toothbrush and toothpaste. Flossing after brushing allows you to remove any food particles that you weren't able to get with your toothbrush.
You should floss daily to help your gums and teeth stay clean. Flossing at least once a day can help, although it doesn't hurt to floss more often. Choose a time that works best for you, and get into the habit of flossing each day. You should also floss after eating certain kinds of food that can get stuck between your teeth more easily, such as starchy foods.
When you floss, you should avoid using the same section of floss for all of your teeth. Instead, move to a new section for each set or section of teeth. If you're using dental floss, it should stay against the sides of your teeth rather than moving around the space between them. Move the floss up in a C shape to make sure you're able to thoroughly clean between your teeth.
Benefits of Flossing on Oral Hygiene
Flossing can improve your oral hygiene overall when you make it a habit, especially with routine dental exams and cleanings. When you floss regularly, you're keeping the spaces between your teeth clear of food debris that can lead to plaque buildup and gum inflammation. This helps reduce your risk of tooth decay and gum disease that can result in tooth loss and infections. Having good oral hygiene is also important to lower your risk of serious health problems, such as heart disease, Alzheimer's disease and pancreatic cancer. When you take the time to floss daily, you can help boost your overall health and wellness.
If you need to schedule your next dental cleaning, contact Cedar Walk Dentistry today. We can help you keep your teeth and gums as healthy as possible when combined with good oral hygiene habits at home.