Tooth decay or damage can cause a wide range of problems, such as infection or severe discomfort, and your tooth may be at risk. Certain treatment options allow you to save your natural tooth, or if the damage is excessive, tooth extraction may be necessary.
When you seek professional care for damage or decay, you'll learn more about the types of treatment options that are available. Having a root canal done helps preserves the affected tooth. Dental implant treatment involves extracting a damaged or decayed tooth and replacing it. Knowing more about these types of treatments can help you understand your options better.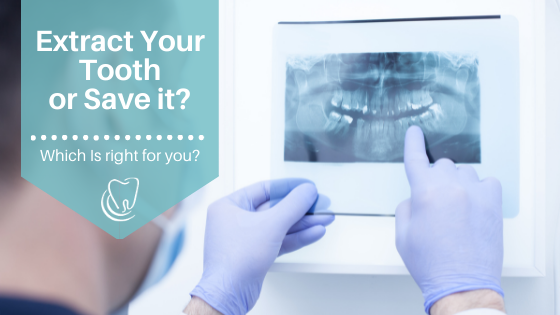 Root Canals to Save Natural Teeth
A root canal, which is a type of treatment in endodontics, lets you keep your natural tooth and jaw structure. You might need a root canal rather than a tooth extraction if you have mild damage or decay. This type of treatment involves removing the pulp from the canal inside the affected tooth, then having the canal cleaned. The tooth is then filled and sealed to help prevent decay or damage from occurring again. While this type of treatment is invasive, it's done in a way that keeps discomfort to a minimum.
Root canals require fewer visits than dental implants. You can expect to visit the dental office for this procedure, then come in for a follow-up visit. During this visit, the temporary filling in your tooth is replaced with a permanent one. This type of treatment helps restore decayed or damaged teeth, which lowers your risk of infection and other problems.
Having a root canal typically costs less than getting dental implants. If you have mild decay or damage and want to keep costs down, a root canal might provide a more suitable treatment option.
Dental Implants to Replace Natural Teeth
Dental implants offer a way to replace natural teeth that have been extracted. When you have severe damage or decay, you might need to have a tooth extraction done. These extractions are done when teeth have too much damage or decay, which can cause potentially dangerous tooth infections. When you have dental implants, this procedure involves having a post or implant placed in your jaw after a tooth is extracted. You'll then need to wait for the jaw to heal before going back to have an abutment or connector piece placed on the post, along with an artificial tooth.
When you have dental implants, keep in mind that this procedure requires more visits. Your first visit is when the post is put in place and dentists make impressions of your tooth, which are used for making the artificial tooth. Your jaw can take several weeks or months to heal enough for your second visit, which is when you have the abutment and artificial tooth put in place. You might also need to come in for follow-up visits to check on your dental implant. Since dental implants serve as replacement teeth, you won't be able to keep your natural tooth with this type of treatment. However, dental implants can help restore normal function if you were having trouble chewing with a decayed or damaged tooth. Having dental implants replacing the affected teeth can also help you avoid dealing with pain or discomfort.
Dental implants are more expensive than root canals since this is a more complex procedure involving multiple dental specialists and steps. Despite the higher cost, you might need to have dental implants if you're having severely decayed or damaged teeth extracted.
If you're having dental issues, please contact Cedar Walk Dentistry in South Charlotte. Our dentists and on-staff Endodontist can evaluate your teeth and determine if a root canal or a dental implant is more suitable.