February is the perfect time for kids and parents to learn about oral health. Why? Because February is National Children's Dental Health Month!
The American Dental Association (ADA) and other dental professionals come promote the benefits of good dental health in children, provide tips for improving oral health in kids, and share helpful information about children's health during the month of February. Here are the top facts about children's dental health they would like you to know.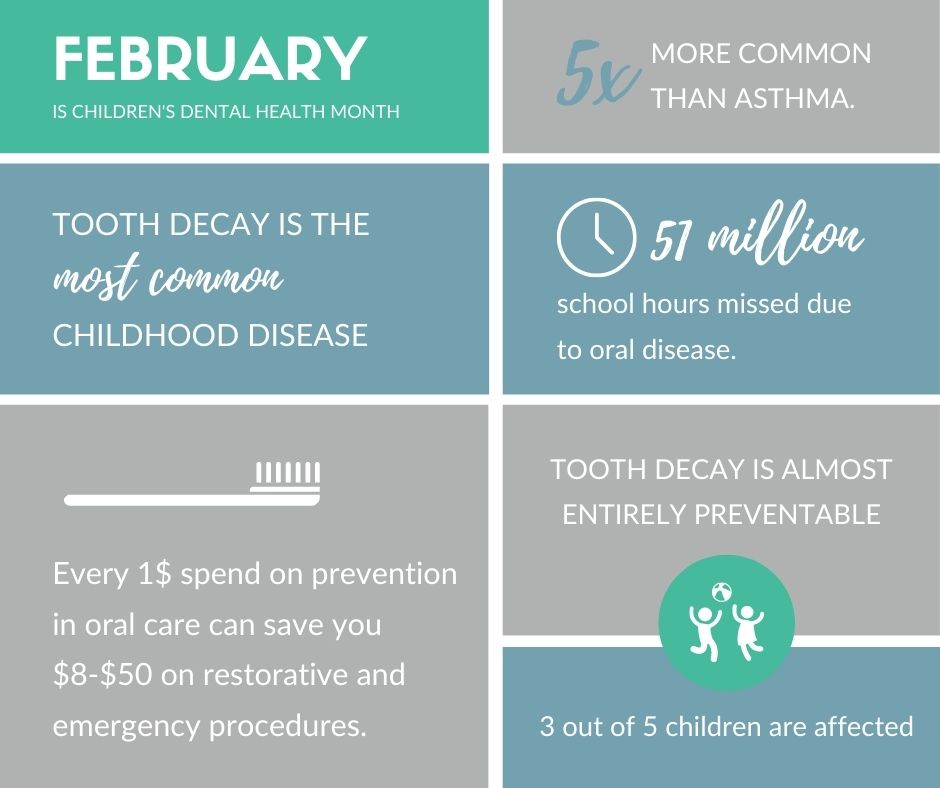 10 Facts about Children's Dental Health
1. Nearly 1 in 5 kids have untreated cavities
About 20 percent of kids between the ages of 5 and 11 have at least untreated decayed tooth, according to the Centers for Disease Control and Prevention (CDC), and 13 percent of 12- to 19-year-olds have untreated cavities. Untreated cavities are more than just unsightly – they can lead to tooth infections, known as abscesses, which can destroy the pulp inside the tooth. In time, these deep infections can even cause a child to lose a tooth.
2. Untreated cavities are more than just a dental problem
Untreated cavities can interfere with a child's everyday life too. Cavity pain can make it hard to eat and speak, and the pain from tooth decay can prevent a child from playing and learning. In fact, research shows that kids who have dental problems miss more school and get lower grades than do children without oral health problems. Tooth fillings and other treatments can stop tooth decay.
3. Fluoridated water helps strengthen teeth
Tooth decay occurs when acids in food and saliva eat away at the enamel, which contains calcium and phosphate. Fluoride can strengthen teeth to reduce enamel erosion.
Fluoride is a naturally occurring mineral – rocks release fluoride into water, soil, and the air. Nearly all water contains some amount of fluoride, but it is not usually enough to prevent tooth decay, so many communities add fluoride to their drinking water. Drinking fluoridated water increases the amount of fluoride in salvia and tooth enamel absorbs fluoride from saliva. Once inside tooth enamel, fluoride combines with calcium and phosphate to strengthen tooth enamel.
4. Some kids need fluoride treatments from their dentists
While many communities add fluoride to their water, fluoridated water may not be enough to protect a child's teeth. Brushing with fluoride toothpaste or using a fluoride rinse can help strengthen tooth enamel. Dentists can apply fluoride varnishes to teeth, which can prevent about a third of cavities in baby teeth, also known as primary teeth. Dental sealants applied to the chewing surfaces of back teeth can prevent 80 percent of cavities.
5. Tooth decay can start early in life
A poor diet and inadequate tooth brushing during the first two years of a child's life can increase their risk of cavities. In fact, cavities can even begin in baby's first tooth! Tooth decay in baby teeth can also increase the risk of cavities in permanent teeth.
6. Healthy dental habits also develop early in life
Wiping an infant's gums with a soft, clean cloth after the morning feeding and before bed removes the bacteria, sugars and acid that can cause cavities. As soon as baby teeth appear, parents can start brushing their little one's teeth with a soft toothbrush and plain water twice a day. Kids can start brushing their own teeth with supervision at about the age of three.
7. Sports are a major cause of dental injuries
Sports injuries are responsible for 13 to 39 percent of all dental injuries in children. Wearing a mouth guard and other sports gear can reduce the risk of sport-related dental injuries.
8. Regular dental checkups are important for kids
Early detection and treatment of tooth decay and other oral health problems is essential for healthy teeth. Going to the dentist for dental exams and hygiene at a young age also helps children feel more comfortable and less stressed out about visiting the dentist.
9. You should take your child to the dentist on his or her first birthday – or sooner
Children should make their introductory trip to the dentist when their first tooth appears or on their first birthday, whichever comes first. After that, kids should go to the dentist about once every six months or as often as recommended by their dentist.
10. February is a great time to schedule a dental appointment for your child
Cedar Walk Dentistry is always glad to provide great dental care for children and families in Charlotte, North Carolina. Contact our team at Cedar Walk Dentistry online or by calling 704-542-9923.