The start of a new year is a time when you reflect on the past and think about what goals and expectations you have for the future. After careful consideration and reflection, if one of your goals for the new year is to improve your smile, Cedar Walk Dentistry is here to help.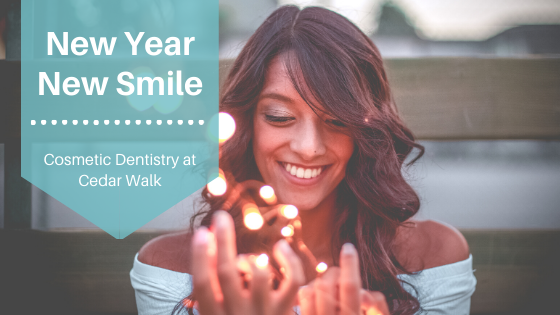 Cedar Walk Dentistry can help you achieve your goal of improving your smile this year by offering a wide selection of general and cosmetic dentistry services. See examples of how the various services offered by our practice can help you change your smile and improve your oral health.
Change Your Smile with the Help of Cosmetic Dentistry Services
Depending upon how you want to change your smile, you may not need to undergo years and years of orthodontic treatment. There are a number of cosmetic dentistry services that can alter the outward appearance of your smile without requiring dozens of office visits.
Some of the cosmetic dentistry services offered by Cedar Walk Dentistry include:
Veneers
Crowns
Dental implants
Invisalign
Professional teeth whitening
Quickly Change Your Smile with Veneers or Crowns
Veneers or dental crowns are tooth-colored porcelain or composite dental appliances that are fitted over your teeth in an effort to quickly change their appearance or restore their feel or function. They are a popular cosmetic dentistry service because all it takes is one or two office visits to completely change your smile.
Veneers and dental crowns can help improve your smile by doing the following things:
Concealing or covering up visible chips and cracks in a tooth
Changing the shape or length of your teeth
Correcting uneven gum lines
Preventing future damage from occurring to the enamel of your teeth
Relieving tooth sensitivity
Covering or concealing staining and discoloration
Dental Implants Help Fill in Gaps Caused by Missing Teeth
Fill in gaps caused by missing teeth by choosing dental implants. Dental implants are artificial dental prosthesis, such as crowns or dentures, which are supported by small titanium rods that have been surgically placed in the bone of the jaw.
People choose to restore their smile with dental implants for the following reasons:
Extremely stable – dental implants do not move around when eating or talking
Long-lasting – dental implants can last anywhere from 15 to 30 years with proper maintenance
Easy maintenance – dental implants are easy to maintain because they can be cleaned just like natural teeth
Extremely natural looking – using composite or porcelain material the dental prosthesis looks just like your natural teeth
Straighten Your Teeth with Invisalign
If extensive changes need to be made to your smile, consider looking into Invisalign. Using a series of clear plastic aligner trays, Invisalign can quickly and effectively shift and move your teeth so that problems such as overcrowding, gaps, and misalignment can be corrected.
Many patients prefer Invisalign over traditional braces for the following reasons:
Fewer office visits – you may only need to visit the dentist every 6 weeks as opposed to every 2 to 4 weeks
Faster results – patients can sometimes start to see results in 6 months
No noticeable wires
Improved comfort – Invisalign doesn't use uncomfortable wires or brackets during treatment. It uses clear plastic aligner trays that are comfortable.
Oral Health Improves with Regular Routine Dental Cleanings
Whether you are happy with the way your smile looks or you want to make some changes, it is important to maintain your oral health. The best way to maintain your oral health is by scheduling regular, routine dental cleanings.
Dental problems such as gum disease, cavities, and tooth sensitivity are easier to treat when caught early. By scheduling routine dental cleanings every 4 to 6 months, dental problems can be detected in their early stages before they start to cause you any pain/discomfort or require you to undergo extensive expensive dental treatment.
Routine dental cleanings don't just help you maintain your oral health. They can brighten and whiten your smile without the need for professional teeth whitening. The specialized dental equipment used during professional cleanings can remove minor stains and discoloration from your teeth. At the end of the cleaning, the hygienist or dentist will polish your teeth. For some people, the combination of the removal of stains/discoloration and the use of polish is enough to make their smile appear brighter and whiter.
If, after a professional cleaning, you aren't satisfied with your smile, your dentist can help provide you with treatment recommendations that will help you get the look you desire. Some treatment recommendations that may be given include professional teeth whitening or veneers.
Ready to improve your smile in the new year? Call Cedar Walk Dentistry to schedule an appointment. Our dental staff can help you find which general and cosmetic dentistry services you need in order to get the smile that you have always wanted.